Rhonda (Fletchall) Underwood, Class of 1976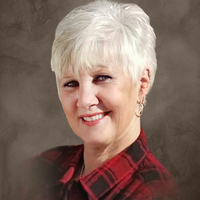 Rhonda Underwood
1958-2022
Bethany, MO: Rhonda Underwood, age 63, Bethany, MO passed away peacefully surrounded by family on February 11, 2022.
Rhonda was born May 6, 1958, in Bethany, Missouri to Gale and Joan Fletchall. She was a 1976 graduate of North Harrison High School where she excelled in academics, softball, basketball, and track. After high school, Rhonda was married for 7 years to Randy Claycomb, and they welcomed a daughter, Candace JoAnn, on November 29, 1980, and a son, Ryan Lee, on October 16, 1983. In 1989, she married the love of her life, Roe Underwood. They welcomed their son, Thomas Samuel, on October 31, 1989. She was widowed in 1993. She enjoyed shopping with her mother, antiques, visiting with friends, and spending time with her children and grandchildren.
Rhonda worked various jobs, her most recent being 17 years at Pettijohn's, where she was a familiar and welcoming face to many. Her favorite job was being a Nana. Most of her weekends were spent traveling to their various events.
Rhonda was a member of Eagleville Christian Church.
She will be deeply missed by all.
Rhonda is survived by her partner, Robert Smith of Bethany; daughter, Candace Claycomb (Brian Sipes) of Savannah, MO; son, Ryan Claycomb (Molly Cartright) of St. Joseph; son, Tom Underwood (Frances Jackson) of Atlanta, GA; grandchildren, Kyler, Jace, Bercaw, Brylee, and Jordan; mother, Joan Fletchall of Bethany; siblings, Glenda Fletchall (Karl Balboni) of Parkville, and Randy Fletchall of Bethany; and several cousins, nieces, nephews, and friends.
She was preceded in death by her father, Gale Fletchall; husband, Roe Underwood; grandson, Harrison Claycomb, both sets of grandparents, and aunts, uncles, and cousins.
Funeral Services will be held at 2:00 p.m. Monday, February 14 at Roberson Funeral Home, Bethany, MO. Burial will follow in Allen Cemetery, Eagleville, MO. The family will receive friends from 12:00-2:00 p.m. Monday at the funeral home. Memorials may be made to Allen Cemetery and/or Andrew County Kings 13 AA Baseball Team in care of Roberson Funeral Home, P.O. Box 46, Bethany, MO 64424. Online condolences may be left at www.robersonfuneralhome.com