Doug Beeks, Class of 1961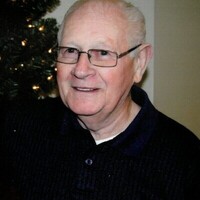 Douglas Hugh Beeks
1942-2020
Bethany, MO: Douglas Hugh Beeks, 78, Bethany, MO peacefully passed away December 5, 2020 in Bethany, MO.
He was born on July 1, 1942 in Bethany, Missouri the son of Floyd Leslie and Gladys Eva (Eaton) Beeks.
Doug lived his childhood on a farm west of Eagleville, MO with his parents, his older brother, Leslie, younger brothers, Billy and Dennis, and little sister, Delcia.
He graduated in 1961 from North Harrison High School. He did a stint in the Army National Guard, joining in 1964.
Doug continued to farm where he grew up for many years. He spent years of showing livestock at fairs and producer shows across the country. He was awarded Master Pork Producer in 1981. He served on the National Pork Association Board and sold Triple F Feed. Doug enjoyed going to his daughter's sporting events, coaching baseball, slow pitch softball and attending his grandkids activities.
He and Sharon moved to Bethany in the mid 1980's. He worked for Place's Warehouse and other jobs before he retired from Johnson Controls, so he could enjoy spending more time with family as well as making and selling crafts.
Doug was preceded in death by his parents; brother, Billy Beeks, aunts, uncles and cousins.
Doug is survived by his wife Sharon, of the home; daughter, Aime, Urbandale, IA; step-children, Kim (Jeff) Dowell, Jeff (Kim) King and Josh (Janet) King; grandchildren, Dustin (Mandy), Tyler (Heather), Jacob (Nanci), Adam, Morgan, Joci, Jayden, Maddie and Noah; great grandchildren, Ruby, Abbie, Kason, Chase, Jaxon, Jaycee, Rosalyn, Jordan and Garrett; brothers, Leslie (Sharon) Beeks, Dennis Beeks; sister, Delcia McBroom, cousins and friends.
Private Family Visitation will be held at Roberson Funeral Home, Bethany, MO. Inurnment will be held at a later date. Memorials May be made to the Bethany Senior Center in care of Roberson Funeral Home, P.O. Box 46, Bethany, MO 64424. Online condolences may be left at www.robersonfuneralhome.com.