Dan Thomas, Class of 1986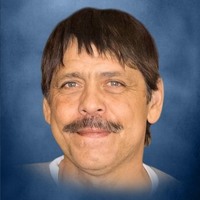 Dan Thomas
1968-2020
Bethany, MO: Dan LeRoyce Thomas of Bethany, MO entered his heavenly home on December 9, 2020 at the age of 52 years, 10 months and 2 days.
He was born on February 7, 1968 the son of LeRoyce and Kay (Still) Thomas. He attended school at North Harrison and graduated in 1986.
Dan was united in marriage to Tanya (Alexander) Thomas on September 25, 1988. To this union, four children were born, each one holding a special place in Dan's heart.
Dan worked at Lamoni Products after graduation then later found work that he loved as a mechanic at C&J Standard. There, one of his greatest friendships was formed, the one with Gary and Sharon Toombs! After C&J closed, Dan went back to work at Ron's 66 then spent nearly 20 years as a parts salesman at CarQuest. Health reasons forced him to quit but he found happiness working part time at Fargo. He made so many lasting friendships while he was there. He was saddened when Fargo closed but bounced back and worked at Smokers Palace until the COVID scare hit our area. He decided that, with his health issues, it wasn't worth the risk.
Dan was the recipient of a "new to him" pancreas and kidney in 2009 and he was given a new lease on life. The kidney failed but he was blessed to receive another kidney transplant in 2015. He had a quintuple by-pass in 2007 but he never complained about the hand he was dealt.
Dan was preceded in death by his parents; infant brother, Mark; older brother, Mike; younger brother, Brian; father-in-law, Billy Alexander and his paternal grandparents, Bob and Reba Thomas.
Left to survive this world without him are his wife, Tanya; his children, Danyel (Aaron) Fitzpatrick, Unionville, Lincoln Thomas, Mattison Thomas and Wyatt Thomas all of Bethany; his favorite girls on earth, granddaughters, Harper and Kirkley Fitzpatrick; sister, Julie (Randy) Vaughan, Clarksville, TN; mother-in-law, Sandra Alexander; sister-in-law, DeLisa Alexander; brother-in-law, Kyle (Robin) Alexander; nieces Jackie (Christopher) Finley, Tiffany (Jason) Foster, Alynn Harris and Sarah Alexander; great nieces, Kelsey Foster, Allie and Rylee Harris; best friend, Bruce Wallace; many "adopted" kids including Mallory (Crabtree) Miles, Gina (Richardson) Mossburg, Jayson Long, Ryan Williams, Nick Taylor, Caitlynn (O'Neal) Michalak, Theresa Tye, Kasey McFall, and Tad Pequignot; "his girls" at the Bethany Dialysis Clinic, Johnnie, Polly, Hilary, Brooke, Heather, Jessica, Misty, and Danielle – without them, we wouldn't have been given as much time with Dan; and much more extended family and friends.
Funeral Services will be held at 11:00 a.m. Monday, December 14 at Kirkley Chapel Church, Ridgeway, MO under the direction of Roberson Funeral Home, Bethany, MO. Inurnment in Kirkley Chapel Cemetery will be held at a later date. The family will receive friends from 4:00-7:00 p.m. Sunday at the church where social distancing will be observed and masks are recommended. In lieu of flowers, memorials may be made to Kirkley Chapel Church to be used to pay it forward to families in need in care of Roberson Funeral Home, P.O. Box 46, Bethany, MO 64424. Online condolences may be left at www.robersonfuneralhome.com