Danny Ellis, Class of 1972
Daniel Martin "Dan" Ellis
1954-2021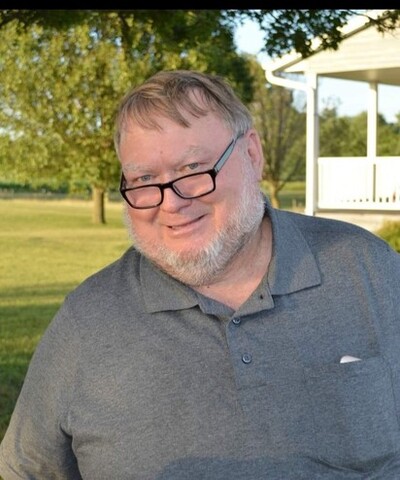 Bethany, MO: Daniel Martin "Dan" Ellis, 66, Bethany, MO passed away on January 13, 2021 at Centerpoint Medical Center in Independence, MO.
Dan was born at the old Reid Hospital in Bethany, Missouri to Andy Jack and Carol Cook on May 23, 1954, He was raised in Eagleville, MO by his grandparents, Alfred and Ruby Gosch. Dan went to school and graduated in Eagleville, MO.
He married Janese Bradley in 1974 and to this union, three children were born.
He was a veteran and served in the United States Air Force as a sergeant in the motor pool where he learned about auto mechanics. After his five years in the service, Dan was accepted to attend one of the nation's leading trade schools for Auto Mechanics in El Dorado, Arkansas. Dan opened his own shop in Hampton, Arkansas for ten years before moving back to Bethany, Mo. Dan owned and operated Dan's Auto Service in Bethany, MO for 32 years. He was also an over the road truck driver for many years.
He was preceded in death by his maternal grandparents, Alfred and Ruby Gosch; paternal grandparents, Lewis Martin "Babe" and Nanny (Todd) Cook; his mother, Carol Rhiner, and his uncle, David Gosch.
Dan is survived by his children, Greg Ellis, Bethany, MO, Jonathan Ellis, Hico, TX, and Jennie (Roy) Pankau, Bethany, MO; brothers and sisters, Sheila (Chris) Macleod, Harrisonville, MO, Lisa (Tony) Alexander, Ridgeway, MO, Mark Cook, Blythedale, MO, Linda (Jack) Briggs, Eagleville, MO, Liane Rhiner, Des Moines, IA; grandchildren, Tiffany (Garrett) Nelson, Waterloo, IA, Cassandra Ellis, Bethany, MO, Juliann Ellis, Maryville, MO, Madalynn Holt, Bethany, MO, Halle Morgan, Eagleville, MO, Cadence Ellis, Bethany, MO, and Drake Gies, Bethany, MO; father, Andy Jack Cook, Ridgeway, MO; aunt, Shirley Smith, Liberty, MO; longtime friends, David Olszowka, Bethany, MO and Gary Ewing, Coffey, MO and many cousins, nieces, and nephews.
Dan has been cremated under the direction of Roberson Funeral Home, Bethany, MO.
Memorial Services will be held at 10:00 a.m. Tuesday, January 19 at Roberson Funeral Home, Bethany, MO. Inurnment with Military Rites will follow in Masonic Cemetery, Eagleville, MO. The family will receive friends from 6:00-8:00 p.m. Monday at the funeral home where social distancing will be observed and masks are recommended. Memorials may be made to Masonic Cemetery in care of Roberson Funeral Home, P.O. Box 46, Bethany, MO 64424. Online condolences may be left at www.robersonfuneralhome.com