Anthony "Tony" Sturdevant, Class of 1968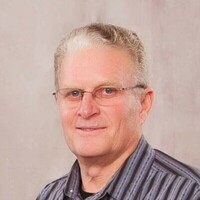 Anthony D. "Tony" Sturdevant
1950-2021
Ridgway, MO: September 21, 1950 rocked Harrison County, MO with the birth of Anthony Dean "Tony" Sturdevant, to Ora Dean Sturdevant and Nina Louise Ward Sturdevant Adkison. His spirit was freed from his body at sunset on January 25, 2021, on the last day of his 52nd year of marriage to Peggy Jean Cracraft Sturdevant at the age of 70.
Tony grew up in Eagleville, MO, attended North Harrison elementary and high school, electronics school in Kansas City, and Graceland University, Lamoni IA. When Peggy was employed by Graceland University in 1983, their lives changed. The difference an education makes in a person's life became evident, and the family was inspired to seek an education. Tony shared his passion for life-long learning with his son Wes, constantly researching a broad range of topics, and watching educational TV. He never missed an opportunity to talk to youth about getting an education.
Tony attended the United Methodist church in his youth. He left organized religion behind, but not his faith or wonderment of possibilities. His acceptance of faith diversity and broad world view of spirituality guided his thoughts and actions.
Tony didn't play sports, musical instruments, or participate in groups other than FFA. But he protected others and ensured the underdog was included. Sean, his daughter-in-law, shared in his unique ability to care for others and talk about things that mattered. He was intuitive to others' feelings, was easy to talk to and liked to give advice (and good advice it was). He loved relationships (all of them), helping others, traveling (on vacation and trucking), museums, and the outdoors-- in the timber, mountains and deserts.
The passion for hunting was shared with his son-in-law Rick. What he enjoyed most about hunting was the tradition of spending time with family and friends. He viewed hunting as an activity basic to human survival and herd management. Taking an animal's life with respect, meant to appreciate the animal for its sacrifice to feed the family, not just for sport.
Tony shared the passion for horses, trucks, fast cars, and motorcycles with his daughter Traci and three grandsons, Brayden, Logan, and Brennan. He enjoyed going to car shows and appreciated the talent and work on display.
Tony spelled backwards is "YNOT." He lived that as his personal philosophy. He repeated the saying "You can be a jack of all trades; but master of none." But his YNOT attitude proved it wrong. He was a jack of all trades and master of most of them. He was a perfectionist which drove him to master everything he attempted; mechanic, engineer, electrician, plumber, carpenter, welder, auto body, any kind of equipment operator, million mile achievement truck driver, and designer of wood projects from tree to finished product. Peggy and Tony built their dream home themselves beginning to end, which was much more than a house. It was a home that welcomed those they loved with open doors.
Predeceasing Tony were his grandparents, John and Annabell Miller Sturdevant, and Ivan and Vergie Johnson Ward; his father, Ora Dean; an infant sister, Janet Lea, and nephew Eric Rucker.
Survivors to mourn his passing include his wife of 52 years (to the day), Peggy Cracraft Sturdevant; daughter and personal nurse, Traci (Rick) Sturdevant Dow; son, Wes (Seandolyn) Sturdevant; his mother, Nina Ward Sturdevant Adkison; sisters, Deanna (Terry) Kinder, Becky (Bobby) Willis, and brother, Jerry (Karlene) Sturdevant; grandsons, Brayden, Logan, and Brennan Dow; the Cracraft in-laws, Leonard/Nadine, Greg/Jeanne, Jim/Sheri, Cecil/Kathy, Larry/Donna, Richard/Cheryl, and a host of nieces, nephews, cousins and friends.
Memorial Services will be held at 3:00 p.m. Saturday, January 30 at the Eagleville Community Christian Church, Eagleville, MO under the direction of Roberson Funeral Home, Eagleville, MO where we will be employing Covid protocol to protect the most vulnerable members of our family. The family will receive friends from 1:00-3:00 p.m. Saturday at the church. In the spring, a gathering at the Masonic Cemetery in Eagleville will be held to bury Tony's ashes in the Sturdevant plot. In lieu of flowers, memorial gifts may be made to the Endowed Scholarship Fund at Graceland University in care of Roberson Funeral Home, P.O. Box 46, Eagleville, MO 64442. Online condolences may be left at www.robersonfuneralhome.com