Rachel Trullinger, Staff
Rachel Ardyce (Ballantyne) Trullinger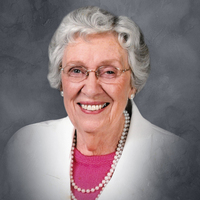 1929-2021
Eagleville, MO: Rachel Ardyce (Ballantyne) Trullinger was born March 27, 1929, in Decatur County, Iowa the eighth of the nine children of Frederick and Sylvia (Hawley) Ballantyne. Rachel is now safe in the arms of Jesus having left this earthly life on March 13, 2021 at the age of 91.
As a child, Rachel attended elementary schools in the Lamoni, IA area and graduated from Lamoni High School in 1946. Following high school graduation she began to work for the telephone company in Lamoni. On June 10, 1947, Rachel was united in marriage to Glen Trullinger at Olathe, KS. They began their married life farming near Lamoni. In 1953, they moved to a farm four miles north of Eagleville, MO where they lived for forty six years. During that time Rachel and Glen raised their family, a big garden, many chickens and a herd of cattle. For many years Rachel was the pianist at the Otterbein Church. Rachel became trained as an EMT and worked with the North Harrison County Ambulance service for a short time. She was then asked to serve as the nurse for the North Harrison School District. She retired from this position in 1991. In 1999, Rachel and Glen built a new home and moved from the farm to Eagleville, MO. In retirement, Rachel enjoyed many groups including the CWF, American Legion Auxiliary, and the VFW Auxiliary of which she was a lifetime member. The Red Hat Friends was a group that she enjoyed immensely and was the source of many happy times. Rachel was talented in many ways, including cake decorating, painting and quilting. She crocheted many blankets and afghans for the grandchildren and great-grandchildren and prayer shawls for the church prayer ministry. Rachel was the master at feeding a large group of people and no one left her table hungry!
Rachel will be sadly missed by her surviving family; Glen, her husband of nearly seventy-four years, and their four children, Ed (Margaret), Tom (Judy), Terry, and Marcie (David) Atwood. Rachel is also survived by thirteen grandchildren and fifteen great-grandchildren (with two more coming soon!). She is also survived by three sisters-in-law and numerous nieces and nephews.
Rachel was preceded in death by a dearly loved daughter-in-law, Comfort Trullinger; her parents; five brothers; three sisters, their spouses; her parents-in-law, Guy and Edith Trullinger, and also brothers-in-law and sisters-in-law and their spouses.
Funeral Services will be held at 1:30 p.m. Friday, March 19 at the Eagleville Christian Church, Eagleville, MO under the direction of Roberson Funeral Home, Eagleville, MO. Burial will follow in Rose Hill Cemetery, Lamoni, IA. The family will receive friends from 12:30-1:30 p.m. Friday at the church where social distancing will be observed and masks are recommended. Memorials may be made to Harrison County Hospice and/or Donor's Choice in care of Roberson Funeral Home, P.O. Box 46, Eagleville, MO 64442. Online condolences may be left at www.robersonfuneralhome.com