Glenn "Doyle" Tull Obituary (Class of 1955)
Glenn Doyle Tull
1937-2017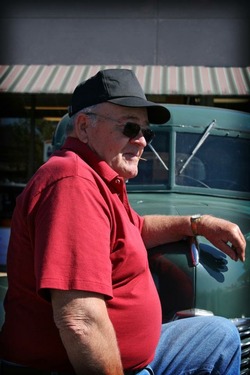 Glenn Doyle Tull, 80, Hatfield, MO passed away Saturday, October 7, 2017 at a Grant City, MO nursing home.
He was born July 28, 1937 in Hatfield, MO the son of Willie M. and Lillian A. (Hall) Tull.
On January 23, 1955 he married Judy Gray in Princeton, MO. She survives of the home.
Glenn Doyle was a graduate of North Harrison High School in 1955 and served in the United States Army. He enjoyed drama and performing in school plays. He was a farmer and was a member of the Hatfield Nation Riders Saddle Club and he loved showing his 1946 International truck at various car shows.
Glenn Doyle was preceded in death by his parents; sister, Bonnie Fae Tull, Wyvonne Tull, and Lola Mae Parkhurst; and brothers, Willie Lee Tull and Gary Lynn Tull.
He is also survived by his daughters, Debbie Bell, Bethany, MO, Lisa (Gregg) Hartley, Pattonsburg, MO, Michelle (Richard) Hallock, Hatfield, MO; grandchildren, Erica (Jaison) Molayal, Jacque (Ryan) Bauer, Jessica (Samuel) Sodeke, Miranda Bell (Jerimy Roeder), Morgan Hallock, Grant Hartley, Garrett Hartley, Reed Hallock; 7 great grandchildren, Connor, Chavez, Evan, Jaxon, Xander, Jaina, Jobi; brother, Charles Tull, Mt. Ayr, IA; sister, Leona Weddle, Bethany, MO; and sister-in-law, Donna Tull, Eagleville, MO.
Funeral Services will be held at 3:00 P.M. Wednesday, October 11 at Roberson Funeral Home, Eagleville, MO. Burial with Military Rites will follow in Payne Cemetery, Hatfield, MO. The family will receive friends from 2:00-3:00 P.M. Wednesday at the funeral home where friends may call after 11:00 A.M. Wednesday. In lieu of flowers, memorials may be made to Payne Cemetery and/or Worth County Convalescent Center in care of Roberson Funeral Home, P.O. Box 46, Eagleville, MO 64442. Online condolences may be left at www.robersonfuneralhome.com